A few weeks ago my husband and I decided we wanted to do something extra special this holiday season. We wanted to help people in a way that we haven't been able to in the past. So we decided to take part of our Christmas budget and use that money to donate toys to the
Toys for Tots Foundation
.
As we went out shopping, we actually felt a bit nervous buying for others. We wanted to make sure we chose toys that children would like and ones that didn't require too many batteries. So on the limited budget we had, we were able to buy 14+ toys.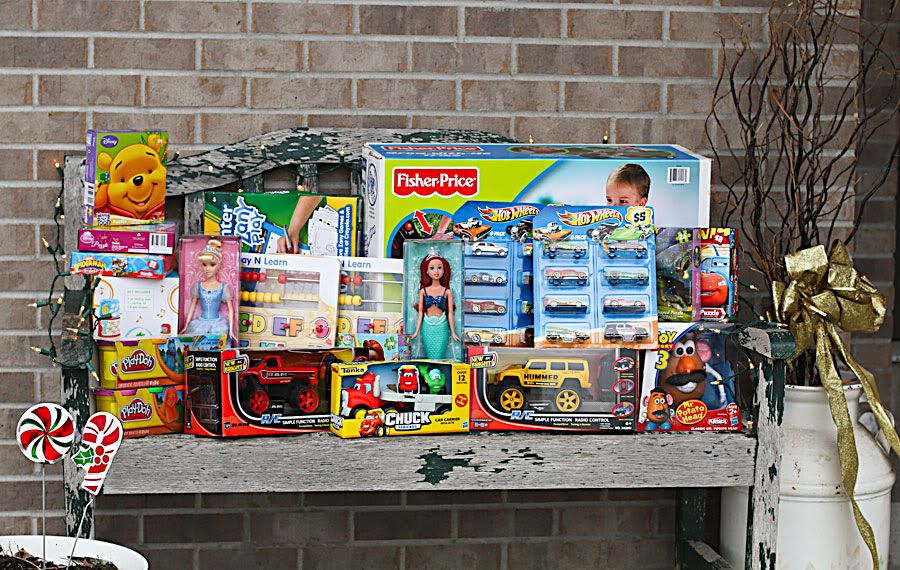 Ethan was really exited about buying toys for other kids. However, when we went to drop them off, he didn't quite understand. He's still a little young, but we are hoping to continue this every year and making it our new family tradition (Of course we want to try and give at other times of the year too).

Dropping the toys off at the drop off location
We picked Toys for Tots to donate, partly, because it is a Marine Corps foundation. My husband served 4 years in the Marines, so military foundations hold a special place in our hearts. We also picked toys for tots because as a child, my parents weren't always financially capable to provide Christmas gifts for us. I remember receiving many generous gifts from charities, which helped make our Christmas special. As an adult, I would like to provide the same for other families.

The blogging community has inspired me in so many ways, in particular it has inspired me to get more involved in helping others. On a daily basis I see the act of kindness that come from other bloggers. I see so many people working to give back and helping those in need. Even though I wish we could have done even more, I know that every little bit helps. If we are able to brighten just one child's Christmas morning, then it's all worth it.
Please note, that I am sharing this to help inspire others to give back, the same way I have been inspired. Every little bit helps a person in need.